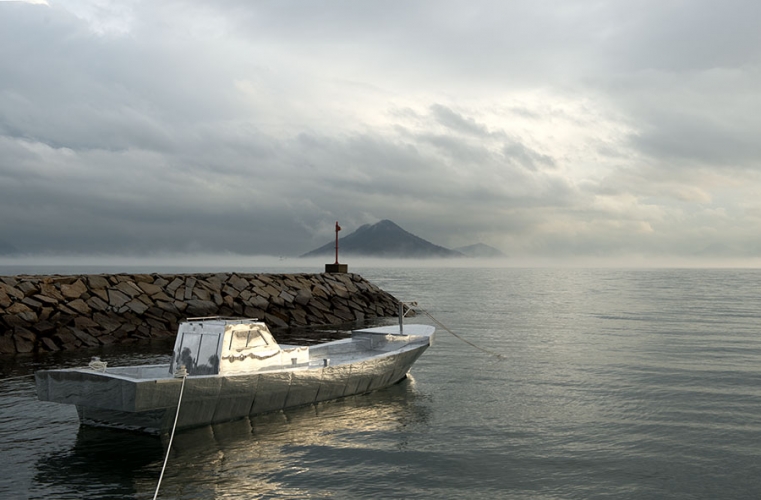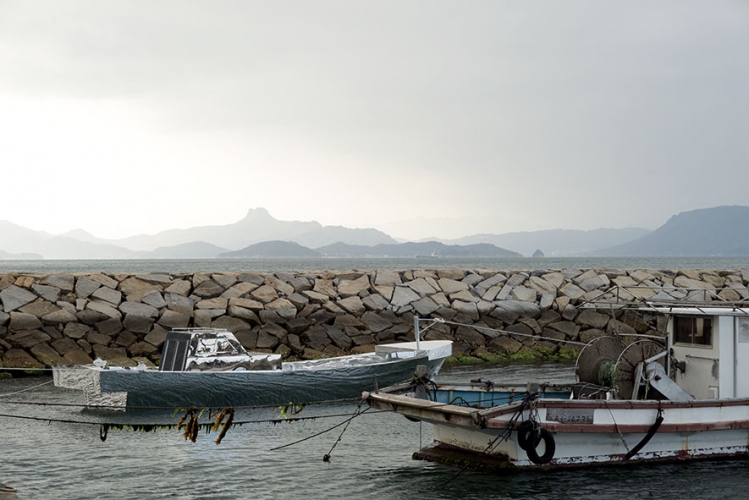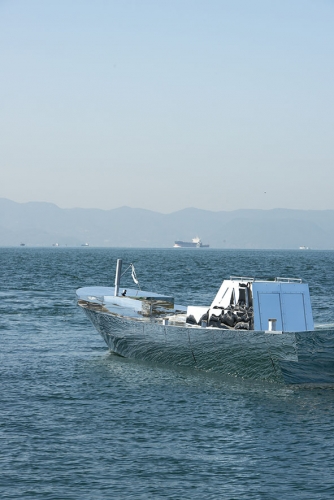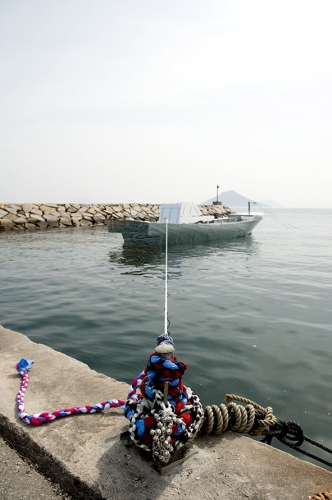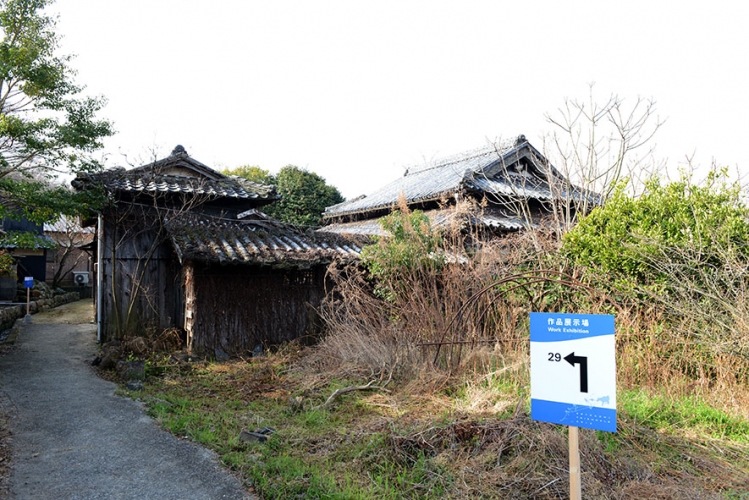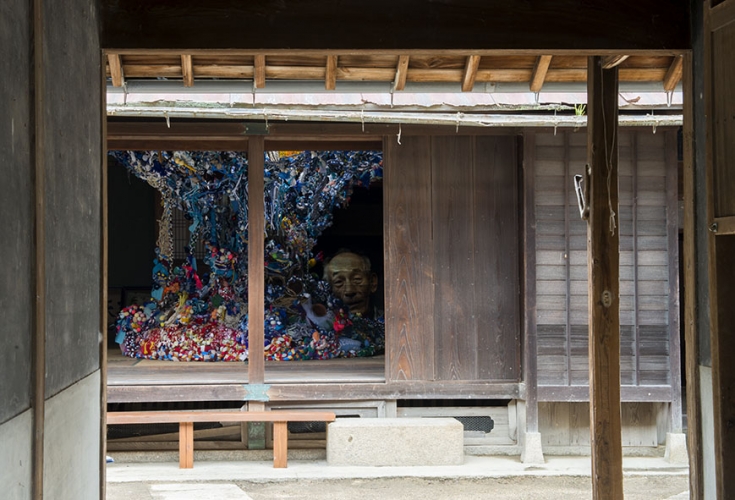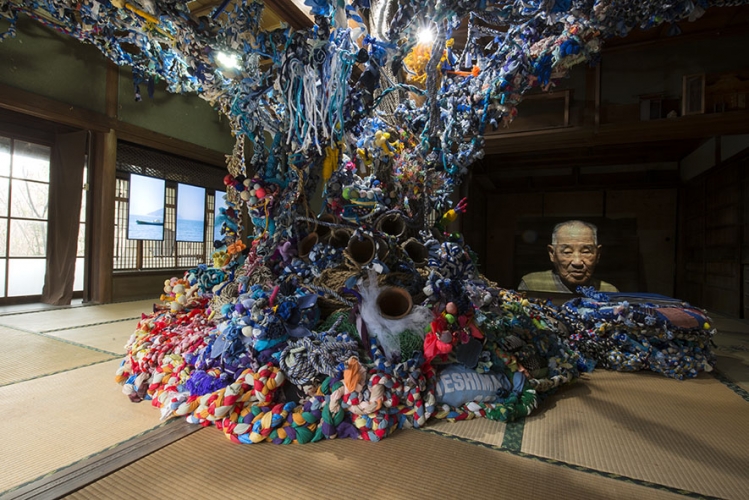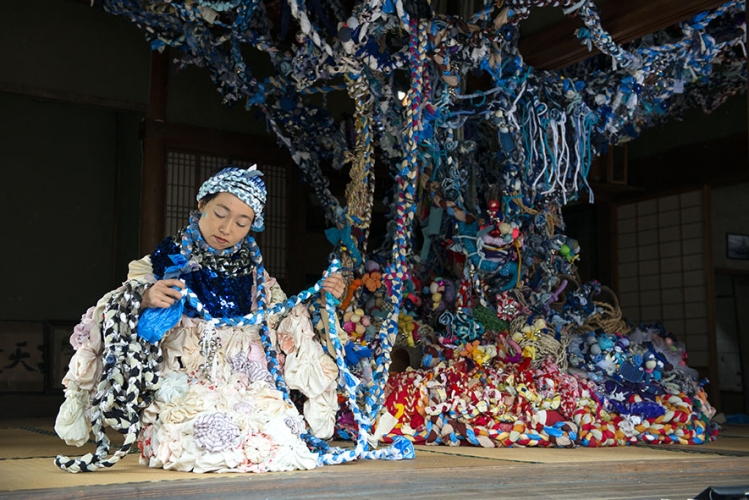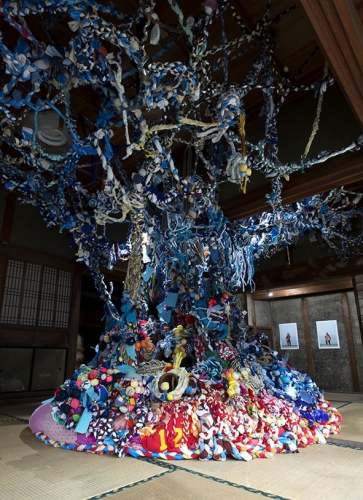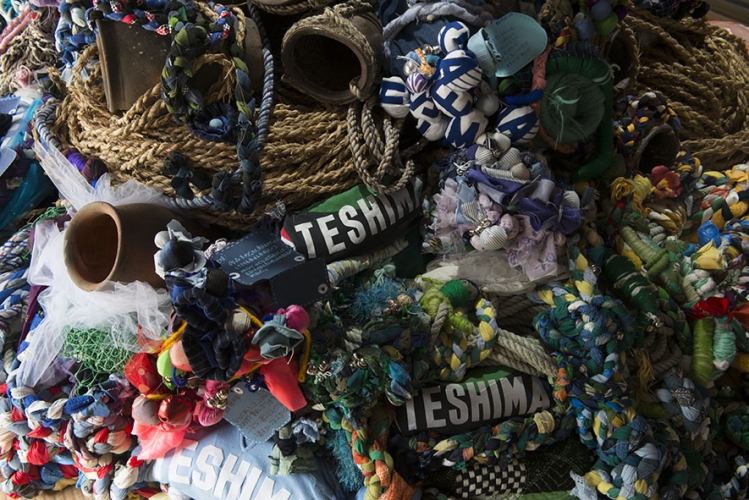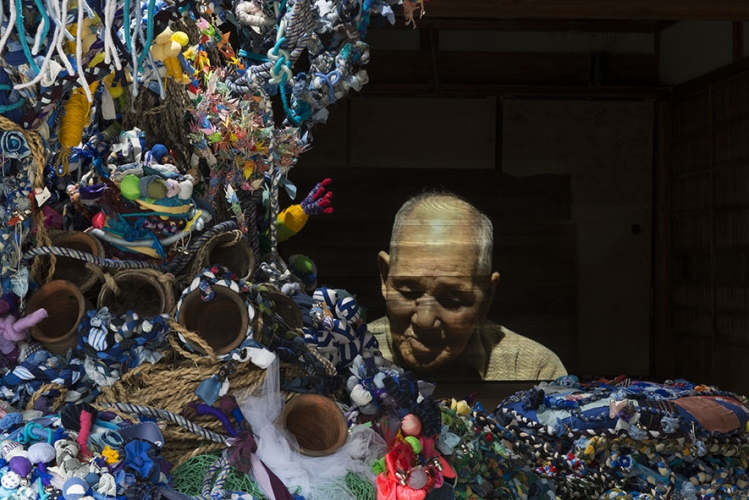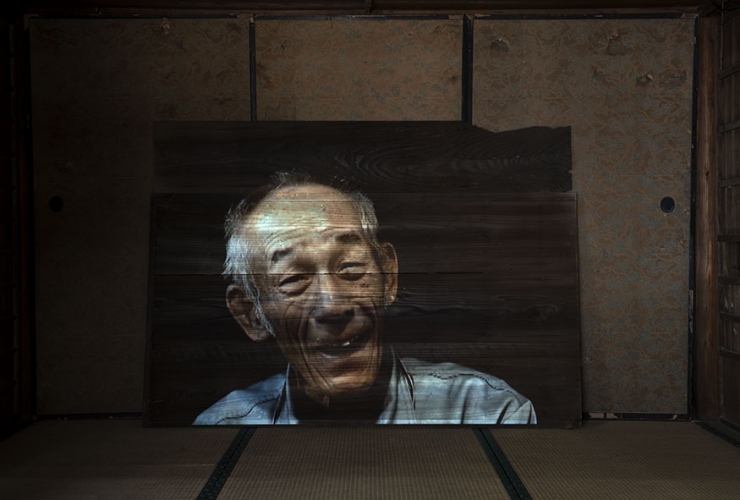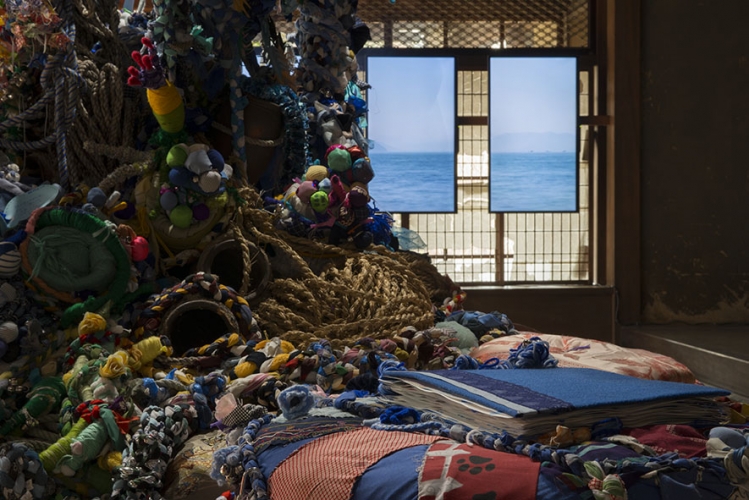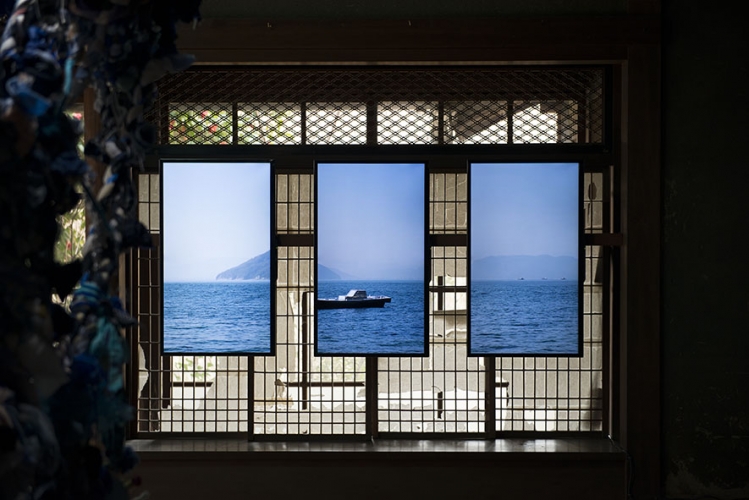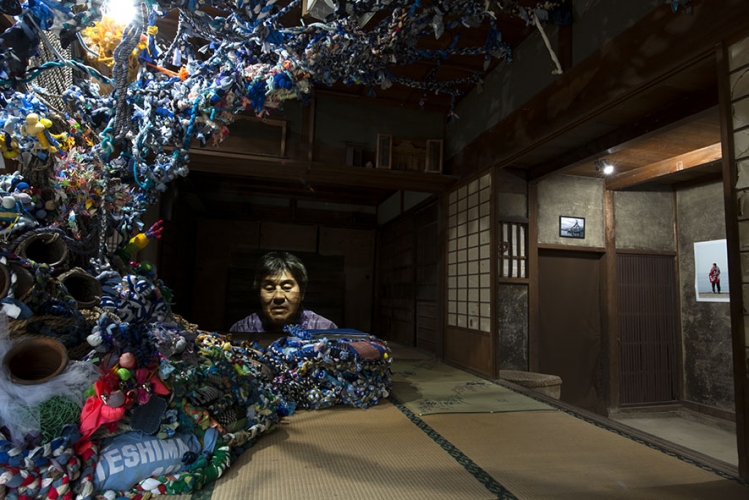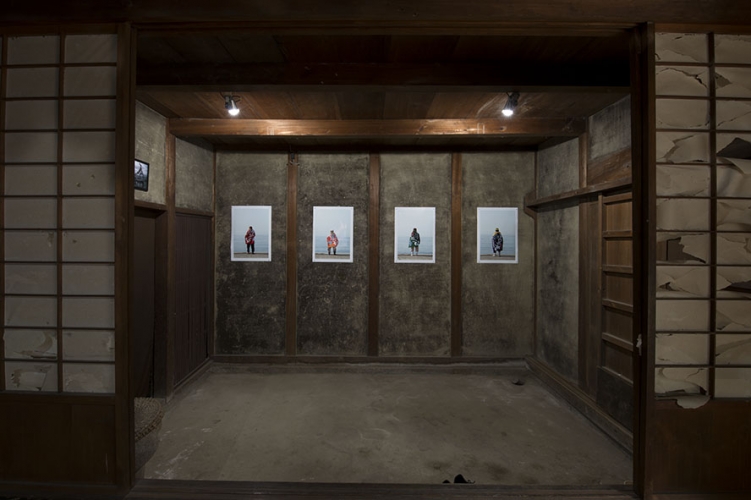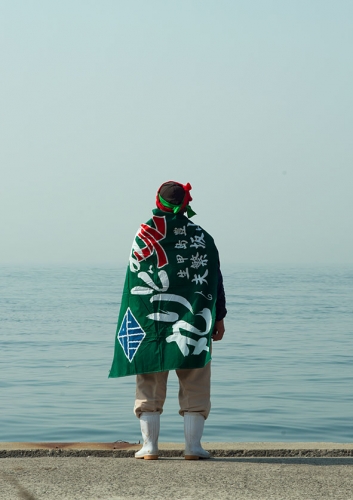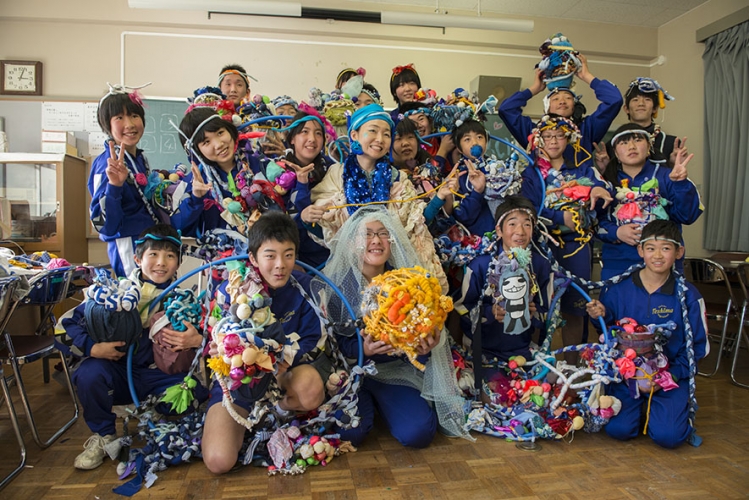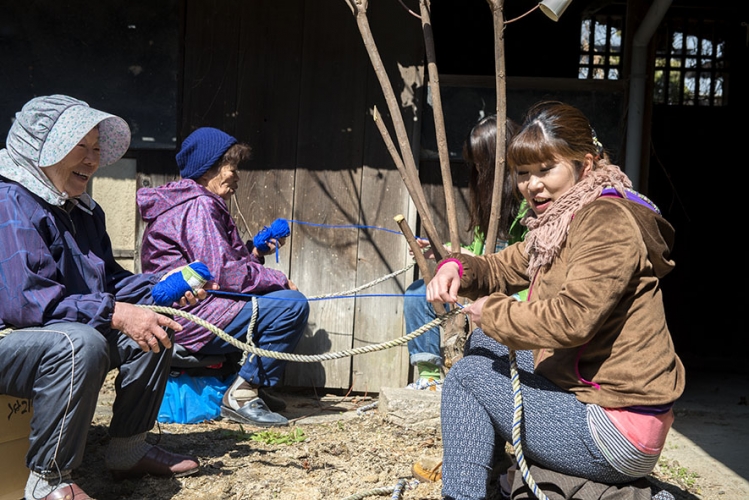 Mixedmedia installation
Craig Walsh & Hiromi Tango - in collaboration with the people of Teshima Island
Traces - Blue is a site-specific artwork developed in collaboration with the people of Teshima in response to the changing circumstances in the village of Kou. The project aims to generate a conversation with the community around issues of change, where traditional values and the pace of island time contrast with contemporary society.
Incorporating existing objects, structures and a collaborative community artwork, the project aims to document and reframe this conversation through workshops with residents of all ages, into elements of public sculpture, video installation and a cumulative artwork.
The resulting work honours an old fishing boat located in the harbour as the core motif for the project, a vessel for exploring ideas of place and change. The boat has been transformed through encasing it in a mirrored surface and it is tethered to land with a series of 'ropes' made by the community, referencing the inseparable influence that the sea and the fishing industry has had on the historical, cultural and economic foundations of the island. No longer an elegiac remnant of the past, this boat now functions as an oscillating configuration of reflective screens, projecting the contemporary environment and its community. The boat at times disappears, camouflaged by its reflection, referencing the changing state of this industry in the village whilst the community 'ropes' continues to hold it securely in place.
Local residents across the island collected materials including second hand clothes, textiles, ropes, fishing nets and octopus traps, which are used to collectively create the community sculpture 'Ropes'. These 'ropes' secure the mirrored boat to the shoreline, and connect the various elements of the project to the village, representing the ties that bind day to day life on the island to place, community and traditions. The 'Rope' sculpture will create the 'historical thread' made contemporary; interwoven as it is with rich and resonating personal stories of both old and young and their intergenerational narratives. They represent a collective spirit, inseparable from that environment, and a strong commitment to remaining connected.
A disused house near the harbour will be the site of a 3-channel video, photographic and sculptural installation, and will incorporate 'traces' from all the components of the project. The video works will be responsive to the sculptural and collective artworks created throughout the village, distilling and representing a community response to these sculptural interventions.
The collaborative 'rope' connects the boat and the house, establishing a symbolic link that binds – anchoring object to experience, experience to culture.
Traces – Blue foregrounds the strength and resilience of this community and enables us to collectively reflect on and embrace their challenges in an ever-changing enduring environment.
The Australian works at the Setouchi International Art Festival 2013 are supported by the Australian Government through the Australia-Japan Foundation which is part of the Department of Foreign Affairs and Trade".