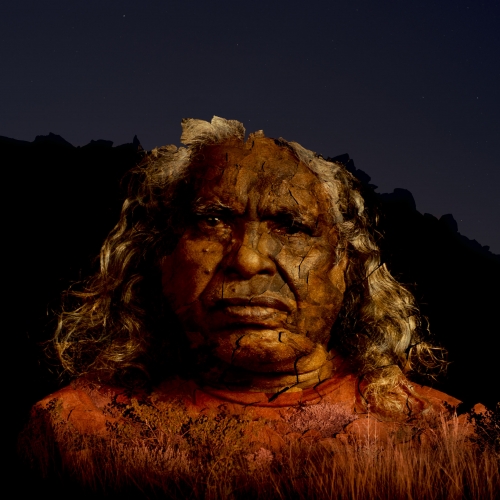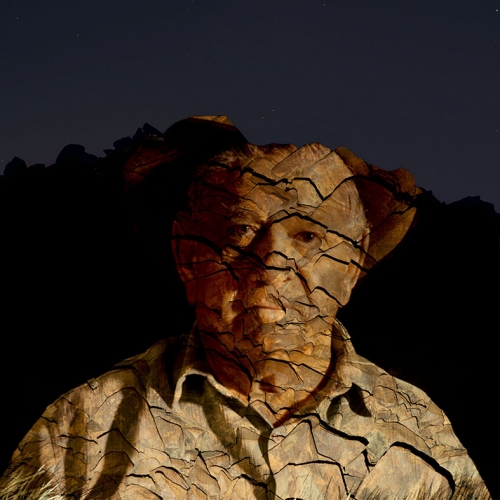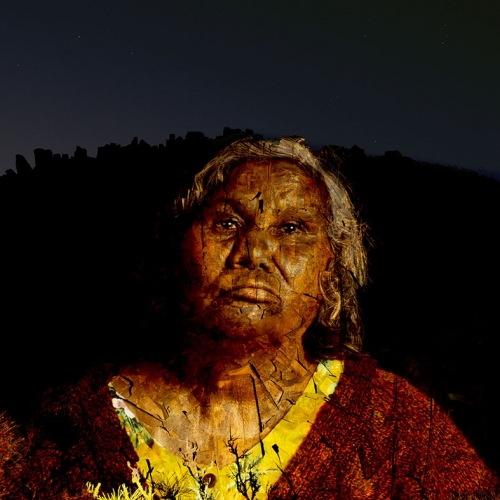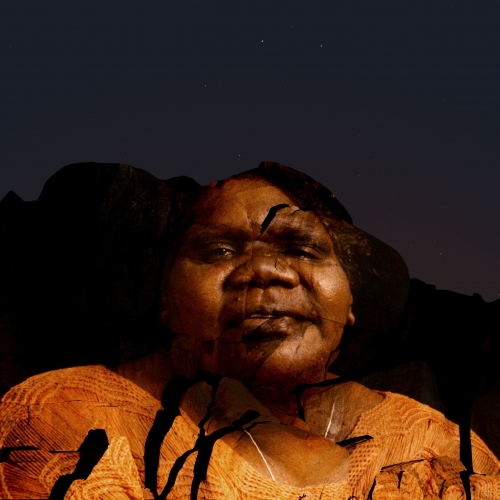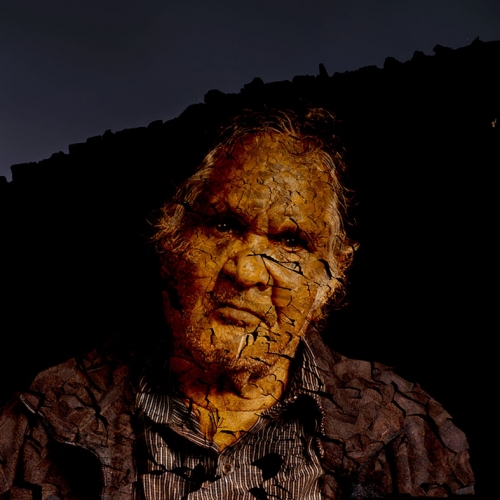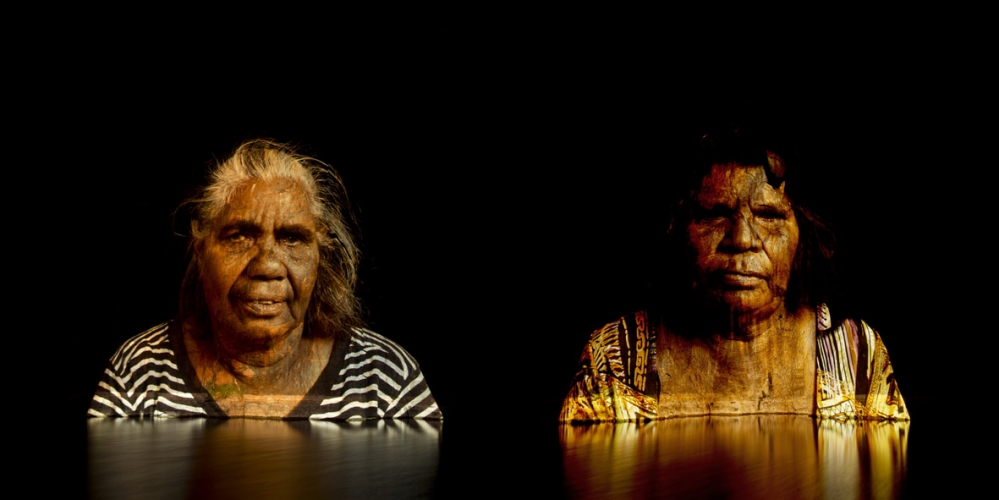 A collaborative project by Craig Walsh with Murujuga Aboriginal Corporation, Museum of Contemporary Art Australia and Rio Tinto.
MURUJUGA:
PROJECT IN THE PILBARA
Murujuga, or the Burrup Peninsula, is a remote land of compelling natural beauty and open ruggedness. Stretching beneath the wide, mostly clear sky of the Pilbara in north western Australia and beside the Indian Ocean, it is dominated by massive formations of fractured, weathered rocks of a deep, rich red-brown colour. Murujuga is a critically important cultural heritage landscape − it contains the world's largest concentration of ancient petroglyphs, over a million examples of rock art engraved into the hard-baked rock surfaces. Murujuga also features a number of clusters and single standing stone arrangements, comparable in cultural significance to megalithic monuments in Europe.
In June 2012 Australian artist Craig Walsh travelled to the Pilbara to undertake an art project in collaboration with the Traditional Custodians of Murujuga, represented by the Murujuga Aboriginal Corporation. The Museum of Contemporary Art Australia and Rio Tinto commissioned the artist to explore the unique rock art of the Burrup Peninsula and realise a new body of work from the experience.
Craig Walsh is well known for his site-responsive artworks that use digital video, projection and sound, developed collaboratively with local people and communities. His works incorporate stories and perspectives that reflect concerns specific to a location. Yet they also touch upon broader themes and resonate with audiences beyond their immediate context. In Murujuga he has created a 21st century portrait featuring cultural, historical and personal perspectives expressed by individuals intrinsically connected to the site.
In the twenty or so years Walsh has been practising as an artist, he has worked across a range of art forms − comprising photography, performance and digital media − and contexts, from gallery-based installations to public art commissions, international art exhibitions, music festivals, theatre and other inter-disciplinary events. He is interested in exploring alternative settings for contemporary art and his work is as readily engaging for people in both rural and remote locations, as it is in an art gallery.
Walsh's practice has involved working for extended periods as artist-in-residence in regional and remote communities in Australia and abroad. From 2010 to 2011, Craig Walsh and his partner, artist Hiromi Tango, travelled throughout Australia on a unique journey titled Digital Odyssey, which saw the artists living and creating projects with people in communities in eleven locations across six states and territories.
During Digital Odyssey, Walsh and Tango developed innovative approaches and a new series of artwork emerged that was successful not only as a visual representation, but it also connected with communities in a meaningful and empowering process of self portraiture in relation to environment. These projects go further than simply locating contemporary art within everyday communities; they involve sustained public engagement and succeed in touching people within, and beyond, the community, inspiring thought and contemplation of a range of more global themes.
The approach to developing an art project with a community requires trust and respect on all sides. On one hand, Walsh is keen to share his work and engage with people; he is interested in learning local stories, attitudes and concerns. On the other, local people quickly recognise a potential in Walsh's artwork as a way of communicating their concerns to a wider audience; art can be a means for getting their voice heard, raising awareness and empowering people.
Each project involves a period of extensive research, conversation and discussion. For the Burrup Peninsula in the Pilbara, Walsh undertook a four week residency working with Murujuga Aboriginal Corporation as well as Murujuga National Park rangers and staff from Rio Tinto. Members of the Circle of Elders shared apects of the Traditional Owners' relationship to the ancient rock engravings and the unique landforms of this highly significant cultural site, and together they sought ways to articulate the connections through the artwork.
Walsh is not only interested in portraying individuals or a community; the physical environment is of equal importance, whether it is an urban or rural context. Collaborating with local project participants, he chooses appropriate sites, often natural landmarks such as trees, hillsides, cliff faces or water courses, which are incorporated into the work as the ground or screen upon which the portrait is projected. For Murujuga in the Pilbara, five distinctive land formations on the Burrup Peninsula were selected as the ground for the projections. The locations were chosen not only for their strong visual presence; they are important sites for the Elders and also for the broader Aboriginal community for whom the Burrup is sacred.
In Country (2012) is a multi-screen digital video work. Each screen is synchronised so that one after the other, the faces of Murujuga Elders Tootsie Daniels, Lawrence Kerr, Tim Douglas, Pansy Hicks and Wilfred Hicks emerge from the darkness and speak. Their words, song and stories – two speak in traditional language − describe elements of the signficance of Murujuga for thousands of generations of original inhabitants. The Elders' images have been juxtaposed onto the rock formations of Murujuga, literally embedded into the landscape, creating a sequence of compelling portraits that encompass the expanse of night sky, vegetation and nocturnal creatures as well as lights from the industrial gas processing plant on the western side, midway up the Burrup Peninsula.
On Murujuga, there is a significant sacred site featuring 96 standing stones, the largest concentration of standing stones in one area in Australia. On an early visit to the Peninsula, Walsh was shown this site and was drawn by its enigmatic presence and commanding visual and spatial qualities. His work titled Standing stone site (2012) is a wide-screen digital video depicting the shifting light on the rock forms as daylight fades and conversely at dawn as the rising sun illuminates the site. The artist has sought to capture 'the mystery and form of this site' through the juxtaposition of the dramatic horizon of standing stones with the extraordinary effect of natural light as it moves across the landscape. The physical profile of the standing stone site remains fixed and monumental, while the spectacular transformation of colour from deep purple to orange red is rendered visible through a technique of high-resolution interval photography. The artist has recorded the changes of light across the rock forms at the extremes of the day, sunrise and sunset; and through digital animation he has composed the images seamlessly into a fluid and dynamic representation of an illuminated landscape.
The artworks that have emerged from this project Murujuga in the Pilbara evolve from a coming together and creative collaboration of individuals from vastly different worlds. The project has united a non‑Aboriginal artist with a group of Aboriginal Elders whose
words and stories attest to their long-standing association and
living spiritual connections to the ancient rock art of Murujuga.
Craig Walsh has brought contemporary artmaking processes and perspectives to reflect upon this unique and complex place. By embedding projected portraits into the land through a collaboration with Traditional Owners, by affording the opportunity for individuals to express themselves through landscape and by merging portraiture and landscape, the artist prompts us to contemplate the extremes and contrasts in the Pilbara that affect us all, and to consider the complexity which defines Murujuga today.
Judith Blackall
Judith Blackall is co-curator, with Robert Leonard, Director of the Institute of Modern Art, of Embedded: Craig Walsh, an exhibition at the Museum of Contemporary Art Australia 12 September – 24 November 2013. She was Head, Artistic Programs at the MCA during Craig Walsh's artist's residency in the Pilbara with Murujuga Aboriginal Corporation and she managed the national touring project Craig Walsh: Digital Odyssey from 2010 to 2011.
website - http://www.murujugainthepilbara.com/
Murujuga In The Pilbara publication available at the MCA bookstore